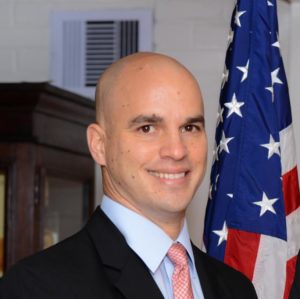 Joshua Sebastian is the engineering manager of The Shearer Group Inc. (TSGI) in Seabrook, Texas. He is a registered professional engineer (P.E.) in Connecticut and Texas. In 1999, he graduated from the United States Coast Guard Academy where he received his B.S. in naval architecture/marine engineering along with his commission. Sebastian's underway assignments included being stationed aboard the USCGC CHASE (WHEC‐718, 378'
Cutter) and several other temporary assignments as a qualified underway engineer of the watch and deck watch officer. His shore duty included postings as an instructor at the Navy's Surface Warfare Officers School Damage Control Training Department and port engineer at Naval Engineering Support Unit Boston, where he was responsible for six 210‐270' Coast Guard cutters. Upon leaving the Coast Guard, Sebastian joined TSGI's sister company, Bristol
Harbor Group Inc. (BHGI) in 2008 as a naval architect. There, he applied his practical naval engineering experience to construction oversight projects, vessel inspection and the design of barges and workboats. Sebastian moved to Texas in 2013 to his current position as TSGI's engineering manager. Since then, he has been directly involved with the design of SCF's 6,600 hp. Triple Z-drive towboat, Conrad/BHGI's LNG bunkering barge and the conversion of an inland towboat to dual fuel LNG.