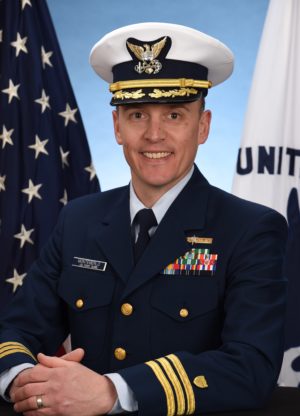 Cmdr. Marc Montemerlo currently serves as the chief of the Hazardous Materials Division at U.S. Coast Guard Headquarters in Washington, D.C. His responsibilities include developing and maintaining regulations, standards and industry guidance to promote the safety of life and protection of property and the environment during the marine transportation of hazardous materials. In addition, Montemerlo serves as the head of the U.S. delegation to the International Maritime Organization Subcommittee on Carriage of Cargoes and Containers (CCC) and is the designated federal official in charge of the Chemical Transportation Federal Advisory Committee.
Previous Coast Guard assignments include: marine inspector at Marine Safety Unit Savannah; facility branch chief at Sector Los Angeles/Long Beach, where he oversaw the inspection of 68 Maritime Transportation Security Act regulated facilities; staff engineer in the Human Element and Ship Design Division at Coast Guard Headquarters, where he worked with the Bureau of Safety and Environmental Enforcement on safety and environmental management system regulations for vessels engaged in Outer Continental Shelf activities.
Montemerlo also served as chief of the Inspections Division at Sector Jacksonville, Fla., where he supervised 25 marine inspectors who ensured domestic and foreign-flagged vessel compliance with U.S. and International regulations. During his tour at Sector Jacksonville, Montemerlo was the Liquefied Natural Gas (LNG) subject matter expert and project coordinator for LNG fueled vessels, and managed the world's first multi-truck to vessel bunkering operations as well as construction of the CLEAN JACKSONVILLE, the world's first Structural Membrane Containment LNG barge.
Montemerlo received his commission in the Coast Guard in 2001, after graduating from the Massachusetts Maritime Academy with a degree in marine engineering. In 2010, he earned a Master of Science in reliability engineering from the University of Maryland. He is a native of Old Saybrook, Conn.