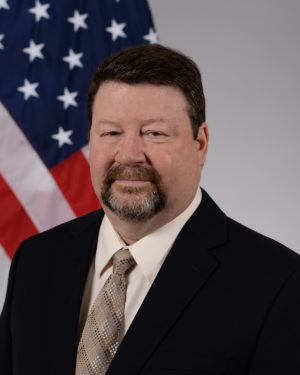 Todd Epperson is the lead maritime security specialist and risk analyst at Sector Upper Mississippi River (SUMR), located in St. Louis, Mo. SUMR's area of responsibility encompasses 11 states throughout the upper Midwest and includes over 2,200 miles of commercially navigable waterways on the Upper Mississippi, Missouri and Illinois rivers and their tributaries. St. Louis is the third largest inland river port and facilitates the movement of more than 105 million metric tons of cargo to the ports of Minneapolis, Chicago, Kansas City and New Orleans.
In a contingency response role, Epperson is a certified Type-3 maritime transportation system recovery unit leader. His experience includes Hurricane Harvey response in Corpus Christi, Texas, of 2017; I-35W Bridge Collapse in Minneapolis, 2007; Mississippi River High Water Events of 2011, 2013 and 2015 and various other Type-2/3 incidents.
Epperson is a Maritime Security Risk Assessment Model (MSRAM) subject matter expert within the Coast Guard. Most recently, he served as an Integrated Process Team (IPT) member in the development of Risk Assessment Tactics, Techniques, and Procedures (TTP). Epperson conducted a Beta Test for the Coast Guard's Maritime Cybersecurity Awareness Training designed for Field Prevention Staff. He designed and orchestrated the first Maritime Industry Cyber Workshop in the Port of St. Louis involving over 50 participants from 20 agencies. In addition, Epperson conducted Cybersecurity Awareness training for 300 participants and facilitated Port-wide Cyber Risk Mitigation Assessments in five SUMR port regions.
Epperson served 25 years in the United States Air Force as a Security Forces Manager, and completed his Master of Arts (M.A.) in Business and Organizational Security Management from Webster University. Most recently, he completed his Masters in Cyber Security Management (MCSM) from Washington University in St. Louis.