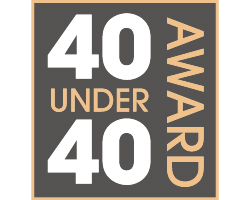 The Inland Marine Expo (IMX) 40 Under 40 Award recognizes men and women under the age of 40 who have made significant contributions to the inland marine transportation industry and collectively promise to play a big role in shaping its future.
Congratulations to the 2020 40 Under 40 Award Winners!
Justin Apgar
Director of New Construction and Compliance Officer
Superior Marine Ways, Inc.
Christian Barger
Chief, Waterways Management Division
USCG – Sector Upper Mississippi River
Blake Boyd
Chief Operating Officer
TowWorks LLC
Vanessa Breslin
Human Resources Manager
Canal Barge
Jacob Brown
Director, Marine Maintenance, Construction and Shipyard Operations
Enterprise Marine Services LLC
Shane Checkan
General Manager
Industry Terminal & Salvage
Whitney Cruse
Vice President of Barge Logistics
Marquette Transportation
President of the West KY Chapter of WIMO
Ashley Danielson
Vice President, Marine Administration
Genesis Marine
Brandon Davidson
Logistics and Marketing
Hines Furlong Line
Tyler Davis
Director of Operations and Sales
Big River Propeller
Trenton Deloach
VP of Operations
Deloach Marine Services
Brian Duffy
Port Captain of Compliance
Florida Marine LLC
Justin Gentry
Operations Manager
Okie Moore Diving and Marine Salvage LLC
Joseph Graham
Manager of Tank Barge Operations
Campbell Transportation Company
Blake Grimmett
Vice President of Barge Line Operations
Heartland Barge Management LLC
James Jaco
Maintenance & Repair / Tankerman
Florida Marine Transportation
Crystal Jones
Senior Underwriter
The American Equity Underwriters Inc.
Josh Jordan
Engine – Block Remanufacturing Manager
National Maintenance & Repair Inc.
Kiefer Kleinschmidt
Fleet Manager
ARTCO
Cassie Koenig
Officer Manager
Rushing Marine Service