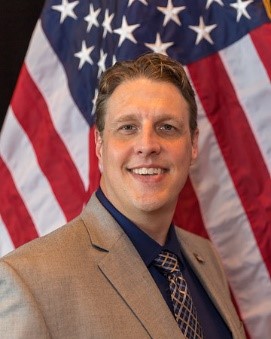 Chad Dorsey has served as director of the U.S. Department of Transportation Maritime Administration's Inland Waterways Gateway Office in Paducah, Ky., since 2018. Along with the Inland Waterways Gateway Office in St. Louis, Dorsey's office shares coverage of the Inland Marine Transportation System (IMTS), which encompasses parts of 23 states that are adjacent to navigable waterways.
The Inland Waterways Gateway Offices are primarily concerned with inland marine transportation, ports, intermodal issues, vessel operations and service providers and marine security. The offices work closely with inland ports to assist them in both short and long-term planning efforts to ensure that they will have the capability to handle intermodal transfers of commodities, both now and in the future, that will result from the implementation of the Americas' Marine Highway Initiative.
Dorsey's career in maritime began in the merchant marine. He holds a bachelor of science degree in marine transportation from the United States Merchant Marine Academy at Kingspoint, N.Y. He started out as a navigation officer and spent eight years visiting 25 foreign ports of call, mainly delivering food aid with what is now known as the Food for Peace program. He then began his shoreside career as director of operations in one of the largest dry bulk terminals in the United States. During that tenure, he received a CEO-designated "Bravo Zulu" award for efforts during hurricanes Katrina and Rita.
In the inland industry, Dorsey has also served as a senior director of commercial operations and logistics, along with other management roles in operations, engineering, transportation consulting and business development. He was named to the International Propeller Club Board of Directors in 2015.
Dorsey and his wife, Elizabeth, reside in Paducah with their three sons, William, Thomas and Teddy.