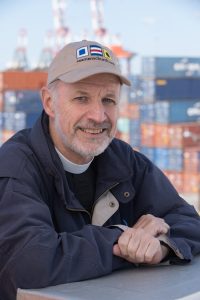 The Rev. David Rider serves as president and executive director of the Seamen's Church Institute, a position he has held since 2007.  Founded in 1834, SCI promotes the safety, dignity and improved working environment for the men and women serving in North America and international maritime communities through pastoral care, training, advocacy and thought leadership.  In the spirit of Maritime Day, SCI celebrates the historic 42-year trusteeship of the 20th-century's greatest mariner advocate, former President Franklin Delano Roosevelt who, on the day he died, was President of the United States and vice president of the Seamen's Church Institute.  Much of President Roosevelt's trusteeship at SCI created the DNA for what is now the simulation training in Paducah and Houston.
In addition to his executive and fundraising duties, Rider leads SCI project initiatives like Critical Incident Stress Management (CISM) protocols for chaplain trauma interventions, Applied Suicide Intervention Skills Training (ASIST) workshops for the maritime community, and
post-piracy resiliency guidelines after long-duration hostage episodes around the world.