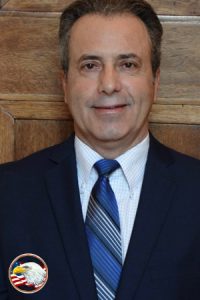 Sal Litrico serves as chief executive officer for American Patriot Container Transport LLC. and is a member of the American Patr
iot Holdings LLC. executive management team.  Litrico graduated from the State University of New York Maritime College in 1977, with Bachelor of Science in marine transportation management, a commission as ensign in the U.S. Navy, a license as Third Mate oceans unlimited tonnage, and a Master's license for 1,600 GRT vessels.
After graduation, Litrico sailed with American Export Lines and Interstate & Ocean Transport and held various licensed deck officer positions.  He later joined the shore staff of Maritrans in Tampa as port captain, eventually becoming vice president in 1990.
Litrico has held positions within TECO Transport, including that of president and chief operating officer, later selling the fleet to United Maritime Group, serving as president and chief executive officer.  In 2010, he retired from United Maritime Group and formed Charlie Echo Group.  He now works as a subject matter expert and consultant for business development, leadership training, risk management and litigation support.
Litrico has been active in the maritime business throughout his career and has received honors such as being appointed by the governor of Florida as chairman of the Tampa Bay Harbor Safety and Security Commission and being appointed to the Federal Towing Safety Advisory Committee.  He has been a member of The American Waterway Operators and Waterways Council Inc., a board member of the National Cargo Bureau, and a trustee of the Seamen's Church Institute.  He is currently serving as president of the United Cerebral Palsy of Tampa.