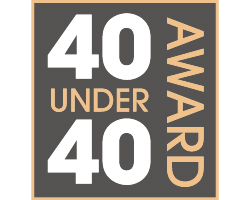 The Inland Marine Expo (IMX) 40 Under 40 Award recognizes men and women under the age of 40 who have made significant contributions to the inland marine transportation industry and collectively promise to play a big role in shaping its future.
Awards will be presented to young professionals working on towboats, passenger vessels or other commercial craft, as well as those working shoreside at a port, terminal, shipyard or fleet. Those providing professional services to the industry such as surveyors, freight or equipment brokers, engineers, and consultants also qualify.
Congratulations to the 2020 40 Under 40 Award Winners!
Justin Apgar
Director of New Construction and Compliance Officer
Superior Marine Ways, Inc.
Christian Barger
Chief, Waterways Management Division
USCG – Sector Upper Mississippi River
Blake Boyd
Chief Operating Officer
TowWorks LLC
Vanessa Breslin
Human Resources Manager
Canal Barge
Jacob Brown
Director, Marine Maintenance, Construction and Shipyard Operations
Enterprise Marine Services LLC
Shane Checkan
General Manager
Industry Terminal & Salvage
Whitney Cruse
Vice President of Barge Logistics
Marquette Transportation
President of the West KY Chapter of WIMO
Ashley Danielson
Vice President, Marine Administration
Genesis Marine
Brandon Davidson
Logistics and Marketing
Hines Furlong Line
Tyler Davis
Director of Operations and Sales
Big River Propeller
Trenton Deloach
VP of Operations
Deloach Marine Services
Brian Duffy
Port Captain of Compliance
Florida Marine LLC
Justin Gentry
Operations Manager
Okie Moore Diving and Marine Salvage LLC
Joseph Graham
Manager of Tank Barge Operations
Campbell Transportation Company
Blake Grimmett
Vice President of Barge Line Operations
Heartland Barge Management LLC
James Jaco
Maintenance & Repair / Tankerman
Florida Marine Transportation
Crystal Jones
Senior Underwriter
The American Equity Underwriters Inc.
Josh Jordan
Engine – Block Remanufacturing Manager
National Maintenance & Repair Inc.
Kiefer Kleinschmidt
Fleet Manager
ARTCO
Cassie Koenig
Officer Manager
Rushing Marine Service
Dave Lee
Senior Account Manager
ABB Marine & Ports
Matt Lewis
Vice President of Operations
Genesis Marine
Travis London
Operations Manager
Leader Memphis Facility
Economy Boat Store
James Myrick
Manager of Tank Barge Operations
Wepfer Marine
Dan Palen
Director Marine Safety and Compliance
Brennan Marine Inc.
Anthony Pettrey
1st Mate
Amherst Madison
Joseph Powell
President
Maritime Defense Strategy LLC
Lindsay Price
Captain
G&H Towing Company
Eileen Provins
Manager of Crewing
Campbell Transportation Company
Brian Richard
Chief Financial Officer
Team Services, LLC
Scott Riggins
General Manager
Inland Marine Service
Sarah Roberson
Director of Operations
RTI Barge Management Inc.
Brandon Robertson
Manager
Marine Transportation
Pine Bluff Sand and Gravel Company
Sarah Stowers
Chief Financial Officer
Western Rivers Boat Management
Chris Supple
Relief Captain
Campbell Transportation Company
Dayna Tappan
Human Resources Manager
Waterfront Services Co.
Travis Terrebonne
President
Industrial Diesel Service LLC
Dan Wibralski
Vice President of Underwater Services
J.F. Brennan Company Inc.
Roger L. Wilson, Jr.
Navigation Manager
Mobile Engineer District, Tennessee-Tombigbee Waterway
Daniel Wolf
Safety and Compliance Officer
Illinois & Michigan Oil LLC (IMO)
The 2021 40 Under 40 Award Nomination form will be available later this year.