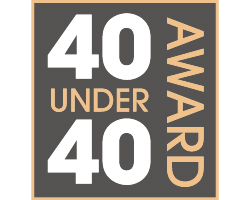 This year, the Inland Marine Expo (IMX) will be accepting nominations for men and women under the age of 40 who have made significant contributions to the inland marine transportation industry and collectively promise to play a big role in shaping its future.
We are looking for nominees that represent the broad range of employment opportunities in the industry. Awards will be presented to young professionals working on towboats, passenger vessels or other commercial craft, as well as those working shoreside at a port, terminal, shipyard or fleet. Those providing professional services to the industry such as surveyors, freight or equipment brokers, engineers and consultants will also qualify.
The information you provide in the nomination along with a personal statement is the only information that IMX will be given to base their decisions upon. You may be contacted by someone representing IMX for follow-up questions. Those who are selected as an IMX 2020 40 Under 40 professional, along with the person who nominated him or her, will receive free registration to the 2020 Inland Marine Expo on May 18-20 at the Dome @ America's Center in St. Louis, Mo., where they will also be invited to a special recognition ceremony.
Nomination Instructions
To enter the Inland Marine Expo's 2020 40 Under 40 recognition, please follow these steps:
Make sure nominee is eligible. Nominees must be under the age of 40 as of May 18, 2020.
Complete and submit the nomination form below
Nominations are due by March 18, 2020, with final selections notified by March 31, 2020.
All selected nominees and nominators should plan to attend the recognition ceremony at Inland Marine Expo.
Questions? Contact Jenn DeLuca at jenn@wjinc.net or call (314) 296-1716