James C. Fowler, Managing Director, Cooper Marine. Executive Vice President, Blakeley Boatworks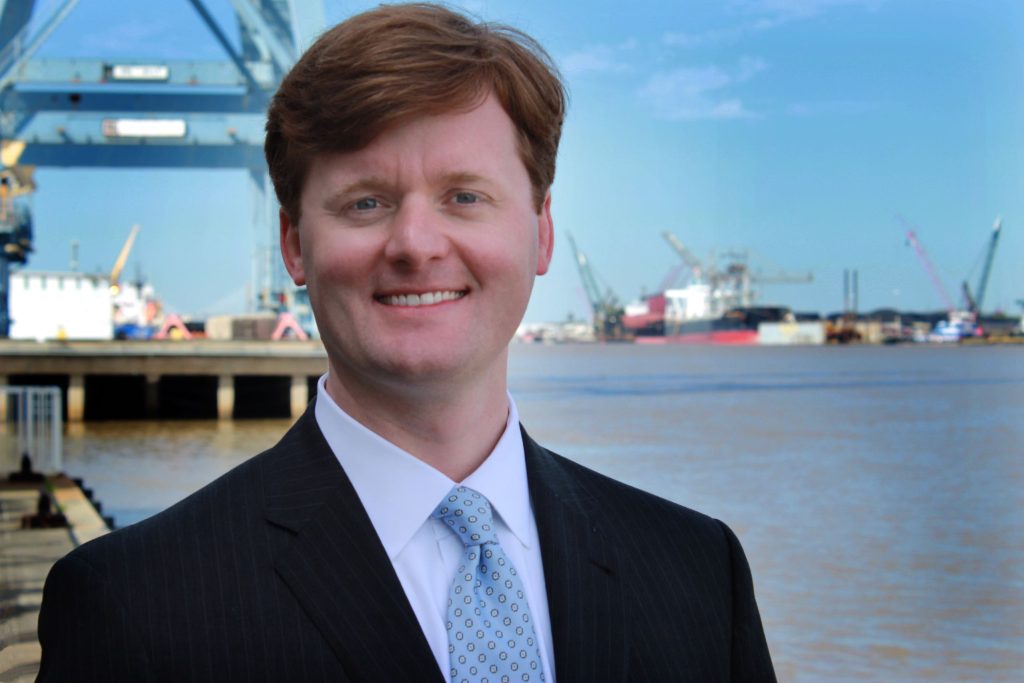 James C. Fowler, Managing Directory of Marine & Stevedoring Operations, Cooper Maine, Executive VP, Blakely BoatWorks
James C. Fowler, Managing Director, Cooper Marine. Executive Vice President, Blakeley Boatworks
James C. Fowler serves as managing director of marine and stevedoring operations for Cooper Marine and executive vice president for Blakeley BoatWorks. Cooper Marine's operations are powered by 22 towing vessels, 450 hopper barges, and one of the country's largest fleet of dry bulk gantry and floating derrick cranes. The company's marine footprint includes the Tennessee-Tombigbee River system, Black Warrior River, Tennessee River, Gulf Intracoastal Waterway, Illinois River, Arkansas River, Cumberland River, Tombigbee River, Ohio River, Mobile River and Mississippi River. The company's world-class stevedoring operations include three deep-draft bulk cargo terminals in the Port of Mobile, numerous inland marine terminals throughout the states of Alabama and Mississippi, and multimodal cargo handling operations in the Port of Corpus Christi, Texas.
Situated on 26 acres in heart of the Port of Mobile and with capacity to simultaneously service up to 15 towing vessels and barges, Blakeley BoatWorks (BBW) is a full-service shipyard specializing in small vessel repair, barge repair and new vessel construction. Equipped with a 1,900-ton floating dry dock, 660-ton travel lift, and four covered fabrication shops, BBW is the state of Alabama's premier towing vessel shipyard.
Previously, Fowler served as vice president for information technology and assistant vice president at The Cooper Group, one of America's largest privately held international maritime firms. Prior to returning to his home state of Alabama, Fowler served as operations manager for Crescent Towing in New Orleans, Louisiana and as a manager of stevedoring and maintenance operations at Cooper Consolidated in Darrow, Louisiana.
He earned his Master of Business Administration with a specialization in finance from the A.B. Freeman School of Business at Tulane University and obtained a Bachelor of Science degree from the Culverhouse College of Commerce and Business Administration at the University of Alabama, where he also served as the president of the Student Government Association and student representative to the university's system board of trustees.
Fowler is the vice chairman of the Mobile Airport Authority and currently serves on the boards of directors for the American Waterway Operators, Reese's Senior Bowl, Propeller Club of Mobile and Regions Bank Mobile Area Advisory Board. He is an active member of the Rotary Club of Mobile, Coastal 150 (Coastal Alabama Partnership) and National Maritime Security Advisory Committee. Fowler previously served as board member for the Mobile Area Chamber of Commerce and Mobile Industrial Development Board, and as secretary of the Mobile chapter of the University of Alabama National Alumni Association. He serves on numerous alumni advisory boards at the University of Alabama, including the board of visitors for the Culverhouse School of Business and Administration. He and his wife, Meg, reside in Mobile, where they are members of Covenant Presbyterian Church and parents to their children, James and Catherine.