#IMX2020 - Coming to Your Screen this Fall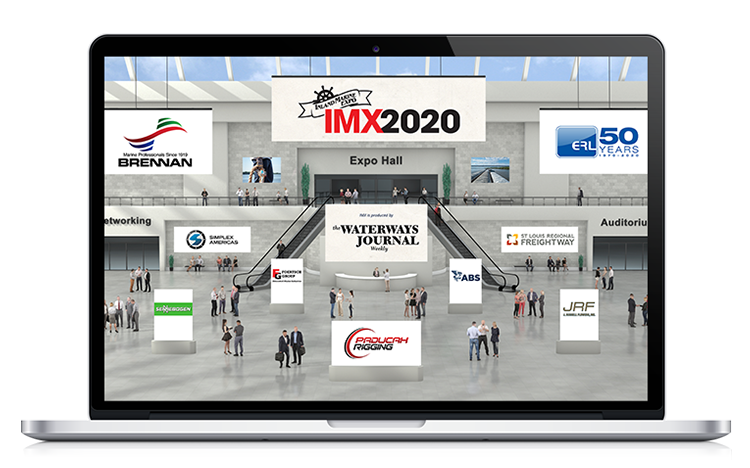 It's official, to ensure the safety of attendees and exhibitors, the 2020 Inland Marine Expo is now a virtual event. The in-person component of the show has been canceled, but we're adapting and excited to offer a fully virtual experience.
Here's what you can expect from this year's virtual edition of IMX:
• Timely expert-led education sessions offered live and on-demand
• The latest products and services in one space, the interactive exhibit floor
• Online networking opportunities and virtual communication tools
Attendee registration for the virtual event will be FREE, with current registrations transferring to the 2021 event. Current exhibitors and sponsors will be able to participate in the virtual event with the potential for greater exposure and value than any live event can offer in these trying times. As always, we continue to be inspired by the brown water community's resilience, grit, and ingenuity.
The IMX event team and the editors at The Waterways Journal are dedicated to providing the inland and intracoastal waterways with a valuable space for networking, learning and furthering the natural advantages of transportation along our marine highways.
Details are still being finalized, follow us on Facebook for event updates. Learn more about IMX going virtual >


Produced by the experts at The Waterways Journal, IMX is designed specifically for the inland and intracoastal marine industry. Since 1887, The Waterways Journal has served as the news journal of record for the towing and barge industry on the inland waterways of the United States. From CEOs to deckhands, the publication is the trusted news source for over 16,000 readers,
Who Should Attend IMX?
Barge and towboat owners and operators
Shallow draft ports and terminals, stevedoring firms
Fleeting and harbor service providers
Inland shipyards and repair facilities
Dredging companies and marine contractors
Ferryboat and inland passenger vessel operators
Engineers, divers, surveyors, consultants
Related government agencies
Thank You to the 2020 Sponsors